RV FREEDOM NOW -10-easy-steps-to-full-time-rv-freedom  "We wouldn't go back to that other life for anything….
The freedom we have is simply amazing. And while we still deal with everyday life, there is serenity all around us. It's a slower pace, a simpler life, and we are much more deeply connected and happy."
— Howard Payne, Full-Time RVer and RV Freedom Now Story Contributor
If you are dreaming of a Full-Time RV Life
It's time to stop dreaming and take action!
RV Freedom Now:   
Discover the 10 Steps You Need
to Live the Ultimate RV Lifestyle
from Real-World People Already Doing It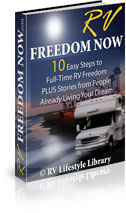 And You can simplify your life!
The worst thing you could do is get off on the wrong foot by making bad decisions that will cost you time and money, not to mention the headaches and hassles.
Listen. The goal of RV Freedom Now is to help you make those all-important decisions so that when you drive off into the sunset you can do so  knowing that everything will run like clockwork in your new life.  It could take you years and countless hassles to figure out the right combinations to make your new life as joyous and stress-free as possible.
But there's absolutely no reason to put yourself through that because now you can….
Learn from others who have 'been there, done that'
and are still doing it. 
It's easy to get started right away. You'll have immediate access to the Step-by-Step Guide and Case Studies. You can't help but benefit from the GOLD of Other People's Experience.. Those courageous and happy (did I mention they're happy?) people who are already living your dreams. Collectively they represent several decades of full-time RV living!
Plus, you'll get all of the bonuses that we've already talked about – yours to keep no matter what.
Getting ready to RV full-time can be overwhelming. Fear. Worry. There are so many details to think about. Making the wrong decisions can be costly and make your transition more work than it needs to be. Who needs that?
But…
Set it up right the first time and you'll be living the relaxed adventure of your dreams from the moment you turn the key in the ignition.